KPSC Recruitment 2020 अधिसूचना प्रारूपण, श्रम निरीक्षक और अन्य नौकरी रिक्तियों को भरने के बारे में। PSC संगठन B.Sc, BBA, BBM, B.Com, B.Ed, LLM, 10 वीं, 12 वीं योग्यता रखने वाले पात्र उम्मीदवारों से ऑनलाइन आवेदन आमंत्रित करता है। ये 523 मसौदा सहायक, श्रम निरीक्षक और अन्य पद कर्नाटक में हैं।
KPSC Recruitment 2020 के लिए नौकरी के आवेदन 19 सितंबर 2020 या उससे पहले ऑनलाइन स्वीकार किए जाएंगे।
Important Dates:-KPSC Recruitment 2020
| | |
| --- | --- |
| Starting Date to Apply Online | 20 Aug 2020 |
| Closing Date to Apply Online | 19 Sep 2020 |
Application Fee:-KPSC Recruitment 2020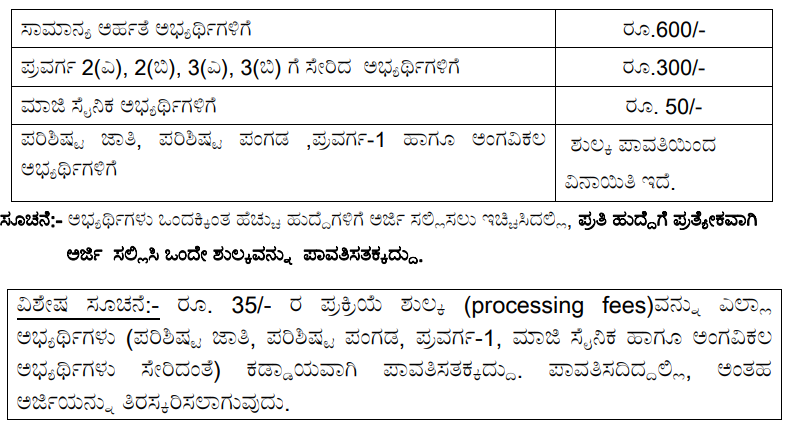 Job Location:-KPSC Recruitment 2020
Various Department of Karnataka
KPSC Recruitment 2020:-Qualification
Name of the Posts
Qualification & Experience
Drafting Assistant
Must be holder of a Degree in Law, Preference will be given to candidates having first class degree in Law or is a holder of a Master Degree in Law.
Labour Inspector
Must possess a Bachelor's degree
Accountant
Must have passed Bachelors degree in Commerce (B.Com) with Accountancy and Commerce
Statistical Inspector
Must possess a Bachelor's Degree with any one of the following subjects (1) Economics, (2) Statistics (3) Mathematics (4) Computer Science
Account Assistant
Must possess B.Com or B.B.M. or B.B.A. Degree or possess any other equivalent qualification notified as such by U.G.C.
Auditors of Co-operative Societies
Must be a holder of a degree in Commerce with Accountancy and Auditing as one of the subject of a University established by law in India
First Grade Revenue Inspector
Must be holder of a Bachelor Degree from an institution recognized by Government
Marketing Supervisor in Agricultural Marketing Department
Must be holder of B.Sc. Degree in Agricultural Marketing and Co-operation
Enumerator
Must possess a Degree in Economics or Statistics
Hostel Superintendents
Must be holder of any Bachelor's Degree with Bachelor Degree in Education (B.Ed.)
Hostel Superintendent (Men)
Must be a holder of a degree with degree in Education
For Inservice Candidates: 1. Must be a holder of a degree with degree in Education 2. Must have put in a service not lessthan 5 years in the cadre of Second Division Assistant, Ashrama School Teachers, Typist, Drivers, Cooks, Kitchen Servants and Peons in the Karnataka Backward Classes Welfare Department.
Hostel Superintendent (Women)
Warden (Boys/ Girls)
Must be a holder of a degree with degree in Education
Junior Account Assistant
Must have passed PUC in Commerce with Accountancy as optional subject
Bill Collector (Urban Local Bodies)
Must have passed SSLC or its equivalent examination
Enuemerator –cum- Data Entry Operator
Must have passed PUC (10 + 2) examination
Tide watcher
Must have passed Secondary School Leaving Certificate Examination (SSLC)
Library Assistant
Must have passed Diploma in Library Science and information Management conducted by the Board of Technical Examination Department of Technical Education with an aggregate of 50 percent marks
House Father/ House Mother
Must have passed PUC or equivalent examination
KPSC Recruitment 2020:-Vacancy Details
| Name of the Posts | No. of Posts |
| --- | --- |
| Drafting Assistant | 03 |
| Labour Inspector | 26 |
| Accountant | 21 |
| Statistical Inspector | 17 |
| Account Assistant | 72 |
| Auditors of Co-operative Societies | 20 |
| First Grade Revenue Inspector | 66 |
| Marketing Supervisor in Agricultural Marketing Department | 06 |
| Enumerator | 09 |
| Hostel Superintendents | 03 |
| Hostel Superintendent (Men) | 04 |
| Hostel Superintendent (Women) | 08 |
| Warden (Boys/ Girls) | 140 |
| Junior Account Assistant | 24 |
| Bill Collector (Urban Local Bodies) | 10 |
| Enuemerator –cum- Data Entry Operator | 45 |
| Tide watcher | 01 |
| Library Assistant | 01 |
| House Father/ House Mother | 50 |
| Total | 523 |
KPSC Recruitment 2020:-Pay Scale
Name of the Posts
Pay Scale (Per Month)
Drafting Assistant
₹37,900 – 70,850
Labour Inspector
₹33,450 – 62,600
Accountant
₹30,350 – 58,250
Statistical Inspector
₹27,650 – 52,650
Account Assistant
₹27,650 – 52,650
Auditors of Co-operative Societies
₹27,650 – 52,650
First Grade Revenue Inspector
₹27,650 – 52,650
Marketing Supervisor in Agricultural Marketing Department
₹27,650 – 52,650
Enumerator
₹27,650 – 52,650
Hostel Superintendents
₹27,650 – 52,650
Warden (Boys/ Girls)
₹27,650 – 52,650
Junior Account Assistant
₹21,400 – 42,000
Bill Collector (Urban Local Bodies)
Enuemerator –cum- Data Entry Operator
₹21,400 – 42,000
Tide watcher
₹21,400 – 42,000
Library Assistant
₹21,400 – 42,000
House Father/ House Mother
₹21,400 – 42,000
Selection Process:-KPSC Recruitment 2020
The selection will be on the basis of Examination & Interview.
KPSC Recruitment 2020:-How to Apply
Read the detailed notification pdf attached below before Apply Online. If you are interested and found yourself eligible for Drafting Assistant, Labour Inspector, click on the apply online link given below. Then, find the appropriate option and fill up the form. You can apply online from 20 Aug 2020 to 19 Sep 2020.
Important Links
Advt. Details Click Here
Apply Online Click Here
SarkariDailyNaukari की तरफ से आप अभी आवेदक को शुभकामनाएं | सभी तरह के सरकारी नौकरी अलर्ट के लिए ,रिजल्ट के लिए और अन्य सभी सरकारी नौकरी के लिए 'www.sarkaridailynaukari.com/' को विजिट करे
आवेदन करने वाले इच्छुक उम्मीदवार सभी मानदंड ,नौकरी विवरण ,ऑनलाइन फॉर्म भरने की शुरुवात और अंतिम तिथि और आवेदन प्रक्रिया जैसे महतवपूर्ण जानकारी निचे देख सकते है | ऑनलाइन आवेदन जमा करने से पहले आप सभी विवरण को ठीक और सही तरीके से पढ़ ले
यदि आपको कोई क्वेश्चन हो तो हमें कमेंट करके जरूर बताये, निचे कमेंट बॉक्स है उसके द्वारा आप हमें सन्देश भेज सकते है या फिर फिर कांटेक्ट पेज से भी समपर्क कर सकते है|